Feb 10, 2020
Sensatia Botanicals Releases Biodegradable Sheet Masks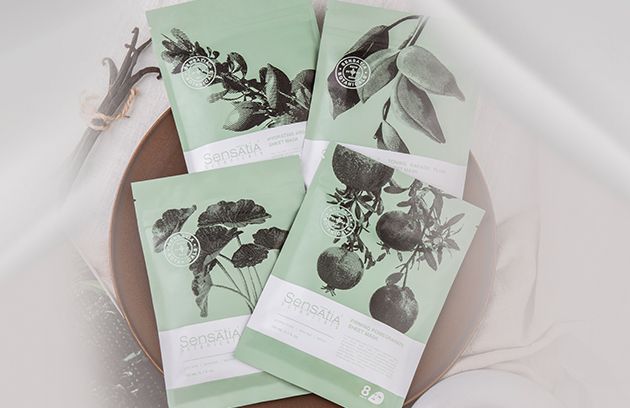 Karangasem, Bali, 10 February 2020 – Sensatia Botanicals, Indonesia's leading natural beauty care brand, is excited to introduce its new sheet mask collections which feature biodegradable VEOCEL™ branded fibers. Made in Bali with globally sourced ingredients, these new collections are set to launch on the 10th of February 2020.

"We are proud to introduce these most-anticipated sustainable sheet mask collections to complement our all-natural skincare assortments," said Michael Lorenti Jr., Managing Director of Sensatia Botanicals. "We use VEOCEL™ branded fibers that will readily biodegrade after use. Each pack contains 8 sheet masks to help minimize waste from the packaging. This way, everyone can still indulge in a little pampering without harming the environment."

The sheet masks are enriched with four different concentrated serums that were formulated with natural extracts to help with common skin conditions such as blemishes, acne, aging skin, dry skin, and even pigmentation:

• Clarifying Cica Sheet Mask is formulated for acne-prone skin. This clarifying mask helps reduce blemishes and alleviate inflammation. Once the serum is absorbed, natural ingredients like tea tree oil and gotu kola (Centella Asiatica or Cica) gently draw out impurities and help restore balance for clearer, calmer skin.

• Firming Pomegranate Sheet Mask features concentrated blend of botanic ingredients which gives this citrusy fresh mask a powerful boost of antioxidants originated from pomegranate extract that help firm and fortify skin. Skin is left looking and feeling refreshed and rejuvenated.

• Hydrating Argan Sheet Mask provides an instant hit of moisture for dry skin with lightweight, yet incredibly hydrating formula. The star ingredient is Argan oil, which is renowned for its ability to smooth fine lines and soften skin. Use once or twice a week to boost hydration or whenever your skin is feeling parched and in need of some nourishment.

• Toning Kakadu Plum Sheet Mask is packed with nourishing all-natural ingredients which helps to soften skin and even out skin tone. Extracts of Kakadu plum, licorice and chamomile help balance and brighten the complexion.

These upcoming beauty products use VEOCEL™ branded fibers as a base for its sustainability and to ensure optimal serum absorption into the skin. VEOCEL™ branded fibers are derived from sustainable wood sources which have been controlled and certified as biodegradable and compostable. These fibers have the ability to safely break down into raw materials and fully revert back into nature within a few weeks, making the masks sustainable for the skin and the environment.

"Sustainability is the heart of what we do at Lenzing. We are proud to be the fundamental part of Indonesian local brand who aims to go further and add more value to its products through natural and eco-friendly fibers such as VEOCEL™ branded fibers. We share the similar mission with Sensatia Botanicals and look forward to providing continuous support for more biodegradable sheet masks products in the near future. We wish all the best to Sensatia Botanicals team for their new product launch," said Winston A. Mulyadi, Commercial Head, Lenzing, Southeast Asia.

Containing 8 sheet masks, each sachet is retailed at IDR 180,000. These products will be available for purchase starting the 10th of February 2020 in all Sensatia Botanicals stores as well as at the official website.

For more information about Sensatia Botanicals, please visit www.sensatia.com.

- End -

About Sensatia Botanicals
Since 2000, Sensatia Botanicals is an Indonesian beauty care brand dedicated to offer naturally effective products. It has been granted GMP (Good Manufacturing Practice) Certification under the ASEAN Cosmetic Directive and Halal Certification by the Indonesian Council of Ulama Bali. Sensatia Botanicals is committed to minimize its environmental footprint while continuously empowers local community by hiring residents of Karangasem, an area where the brand was founded, resulting with over 90% of the total employees. Made in Bali, with globally sourced ingredients, all Sensatia Botanicals products are cruelty-free, free of parabens, palm oil, synthetic dyes and artificial fragrances. For more information, please visit www.sensatia.com.

About VEOCEL™
VEOCEL™ is Lenzing Group's flagship specialty nonwoven brand. Derived from renewable raw material wood, VEOCEL™ branded fibers provide natural care, every day, and is committed to driving industry standards around sustainability and natural comfort in the nonwoven sector. VEOCEL™ branded fibers transfers the essence of nature into nonwoven products through the beneficial properties of VEOCEL™ branded fibers, including natural absorbency, liquid distribution, contribution to breathability, biodegradability and versatility.

The VEOCEL™ branded fibers product portfolio includes VEOCEL™ Lyocell and VEOCEL™ Specialty Viscose fibers that are tailored for sustainable lifestyles and helps to maintain environmental balance by being fully integrated into nature´s cycle. These fibers are certified clean and safe, biodegradable, from botanic origin and manufactured in an environmentally responsible production process. The VEOCEL™ brand is categorized into four branded offers including VEOCEL™ Beauty, VEOCEL™ Body, VEOCEL™ Intimate and VEOCEL™ Surface and its fibers are used in baby care, beauty and body care, intimate care and surface cleaning products.

Fibers under the VEOCEL™ brand are derived from renewable wood sources from certified and controlled forests and plantations and are manufactured in environmentally responsible and closed loop production processes. The fibers are compostable and biodegradable, enabling them to break down safely into raw materials and fully revert back into the environment.