Aug 10, 2021
Sensatia Botanicals Releases Bath Collection Featuring the Finest Indonesian Native Flora Extracts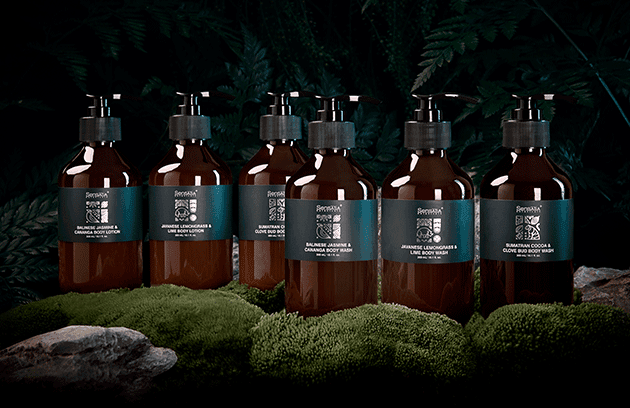 Karangasem, Bali, 10 August 2021 – Sensatia Botanicals, Indonesia's leading natural beauty care brand, is proud to expand its natural personal care line with the release of Native Flora Bath Collection. Featuring three different aromas, each available in Body Wash and Body Lotion, these new products are set to launch on the 10th of August 2021.

Drawing on Indonesian culture, the Body Wash and Body Lotion formulas are infused with several types of moisturizing plants. Among the plants used are coconut, mangosteen, bengkuang, starfruit, and pandan leaf which provide the skin with a natural barrier to lock moisture in. The formulas also contain a variety of flowers, spices, and herbs that includes three special aroma blends, which are:

• Sumatran Cocoa & Clove Bud features all-natural herbs, fruit, and spices from the island of Sumatra. The luxurious blend brings to mind the lush environs of tropical plantations where sunlight filters in through the foliage and the air is fragrant with rich, earthy scents.

• Javanese Lemongrass & Lime boasts the bright, citrusy aromas of lemongrass, limes, and oranges. The tropical ingredients are grown in the volcanic valleys of Java where the fertile soil and warm climate help produce abundant harvests.

• Balinese Jasmine & Cananga effuses the intoxicating scent of freshly plucked flowers that will transport you to the exotic gardens of Bali. Jasmine, hibiscus, and cananga grow in abundance on the island and have been used in traditional Balinese beauty and skincare rituals for centuries.

Sensatia Botanicals commits to producing only biodegradable formulas for all bath collections including this one. The body wash will break down easily leaving zero negative effect on the environment when it washes out into waterways. The Body Lotion in this collection contains plant-derived niacinamide, also known as vitamin B3, which is a water-soluble vitamin that works with the natural substances in your skin to help visibly improve enlarged pores and even out skin tone.

"We are thrilled to share this Native Flora Bath Collection with the world just in time for Indonesian Independence Day this August," said Michael Lorenti Jr., Managing Director of Sensatia Botanicals. "Each blend has been created with Indonesian cultural heritage in mind, with carefully-selected ingredients which resulting in aromas that will transport you to exotic Indonesian locations."

Retailed at IDR 180,000 for 300ml Body Wash and IDR 180,000 for 300ml Body Lotion, this collection is available for purchase starting at the 10th of August 2021 in all Sensatia Botanicals stores as well as at the official website.

For more information about Sensatia Botanicals, please visit www.sensatia.com.

- End -

About Sensatia Botanicals
Since 2000, Sensatia Botanicals is an Indonesian beauty care brand dedicated to offer naturally effective products. It has been granted GMP (Good Manufacturing Practice) Certification under the ASEAN Cosmetic Directive and Halal Certification by the Ministry of Religious Affairs of the Republic of Indonesia. Sensatia Botanicals is committed to minimize its environmental footprint while continuously empowers local community by hiring residents of Karangasem, an area where the brand was founded, resulting with over 90% of the total employees. Made in Bali, with globally sourced ingredients, all Sensatia Botanicals products are cruelty-free, free of parabens, palm oil, synthetic dyes and artificial fragrances. For more information, please visit www.sensatia.com.