Dec 22, 2021
Sensatia Botanicals Launches Natural Baby Care Collection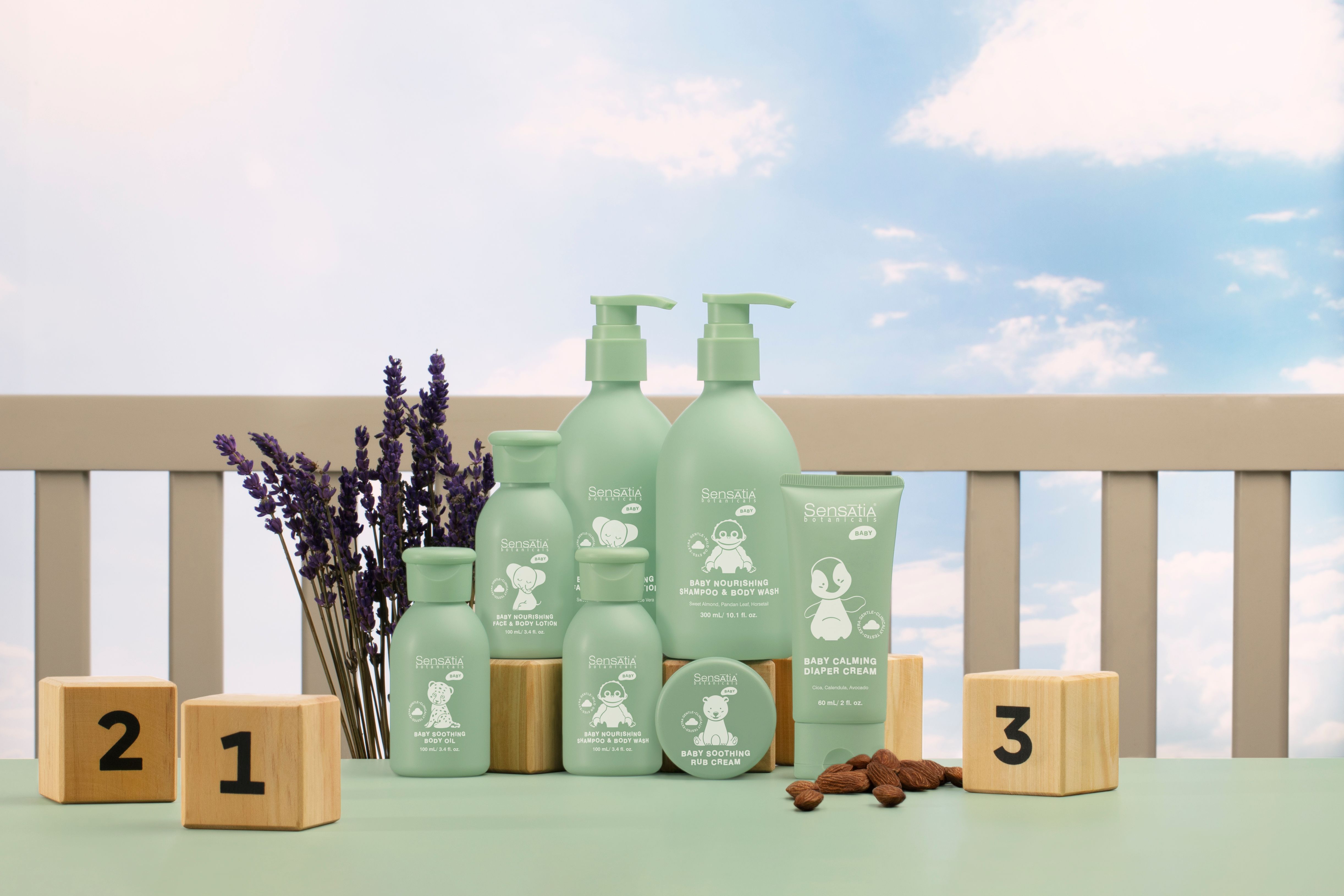 Karangasem, Bali, 22 December 2021 – Sensatia Botanicals, known for over 20 years as the innovative company that introduced natural beauty products, is excited to announce the release of its new line of products for baby. Featuring five clinically-tested products, this collection is available for purchase online today and will be available in retail stores by 5th of January 2022.

The Natural Baby Care Collection was carefully designed to provide nourishing benefits and the ultimate safety for little ones. Each product has undergone clinical testing to assure they are gentle and safe for delicate skin. The Shampoo & Body Wash was also examined to assure that the formula is mild enough to use around the eye area. Suitable for newborns and children up to 5 years old, this collection includes:

• Baby Nourishing Shampoo & Body Wash is specially formulated to gently cleanse babies' delicate skin without drying. The plant-derived ingredients nourish while imparting the refreshing aroma of cucumber and lavender. Gentle enough to use every day, the formula is hypoallergenic, mild on the eyes and dermatologically tested.

• Baby Nourishing Face & Body Lotion helps restore the natural moisture balance in baby's skin. The combination of aloe vera, shea butter and sweet almond oil hydrate skin and provide a protective barrier to lock moisture in. Baby's skin is left feeling soft and refreshingly scented with cucumber and lavender.

• Baby Calming Diaper Cream soothes baby's irritated skin with its fragrance-free, dermatologically tested formula. The cream glides on smooth and creates a protective barrier to help reduce irritation. Use it to calm sensitive skin and help alleviate chafing or diaper rash before it starts.

• Baby Soothing Body Oil helps replenishes baby's skin with nurturing plant-based ingredients. Gently massage it into baby's skin to calm your little one and hydrate skin. Extracts of avocado, sweet almond and pomegranate oils provide nutrients that nourish and help lock moisture in to soothe dry, irritated skin.

• Baby Soothing Rub Cream helps calm fussy babies and improve sleep quality with its subtly herbaceous scents of cajeput and lavender. The non-greasy formula contains essential oils that are known for their benefits to skin and ability to relax the body and mind. The botanic ingredients help restore moisture and impart a subtle aroma that can be incredibly calming.

• My Baby's First Skincare Kit provides a complete baby care collection to gently pamper and nourish baby's skin. The kit contains one bottle each of Baby Nourishing Shampoo & Body Wash, Baby Nourishing Face & Body Lotion, Baby Calming Diaper Cream, Baby Soothing Body Oil and Baby Soothing Rub Cream packed in a versatile cotton pouch.

"We carefully selected ingredients that babies' growing skin needs the most and infused them into our range of baby products," said Michael Lorenti Jr., Managing Director of Sensatia Botanicals. "This collection also allows Mom and Dad a luxurious feeling on their hands every time they attend to their baby's cleansing and moisturizing needs."

Retailed starting from IDR 90,000, this collection is available for purchase at the official website starting at the 22nd of December 2021 and will be available in all Sensatia Botanicals stores by 5th of January 2022.

For more information about Sensatia Botanicals, please visit www.sensatia.com.

- End -

About Sensatia Botanicals
Since 2000, Sensatia Botanicals is an Indonesian beauty care brand dedicated to offer naturally effective products. It has been granted GMP (Good Manufacturing Practice) Certification under the ASEAN Cosmetic Directive and Halal Certification by the Ministry of Religious Affairs of the Republic of Indonesia. Sensatia Botanicals is committed to minimize its environmental footprint while continuously empowers local community by hiring residents of Karangasem, an area where the brand was founded, resulting with over 90% of the total employees. Made in Bali, with globally sourced ingredients, all Sensatia Botanicals products are cruelty-free, free of parabens, palm oil, synthetic dyes and artificial fragrances. For more information, please visit www.sensatia.com.