May 12, 2022
Sensatia Botanicals Unveils Biodegradable Bath Amenities to Mark New Era in Sustainable Travel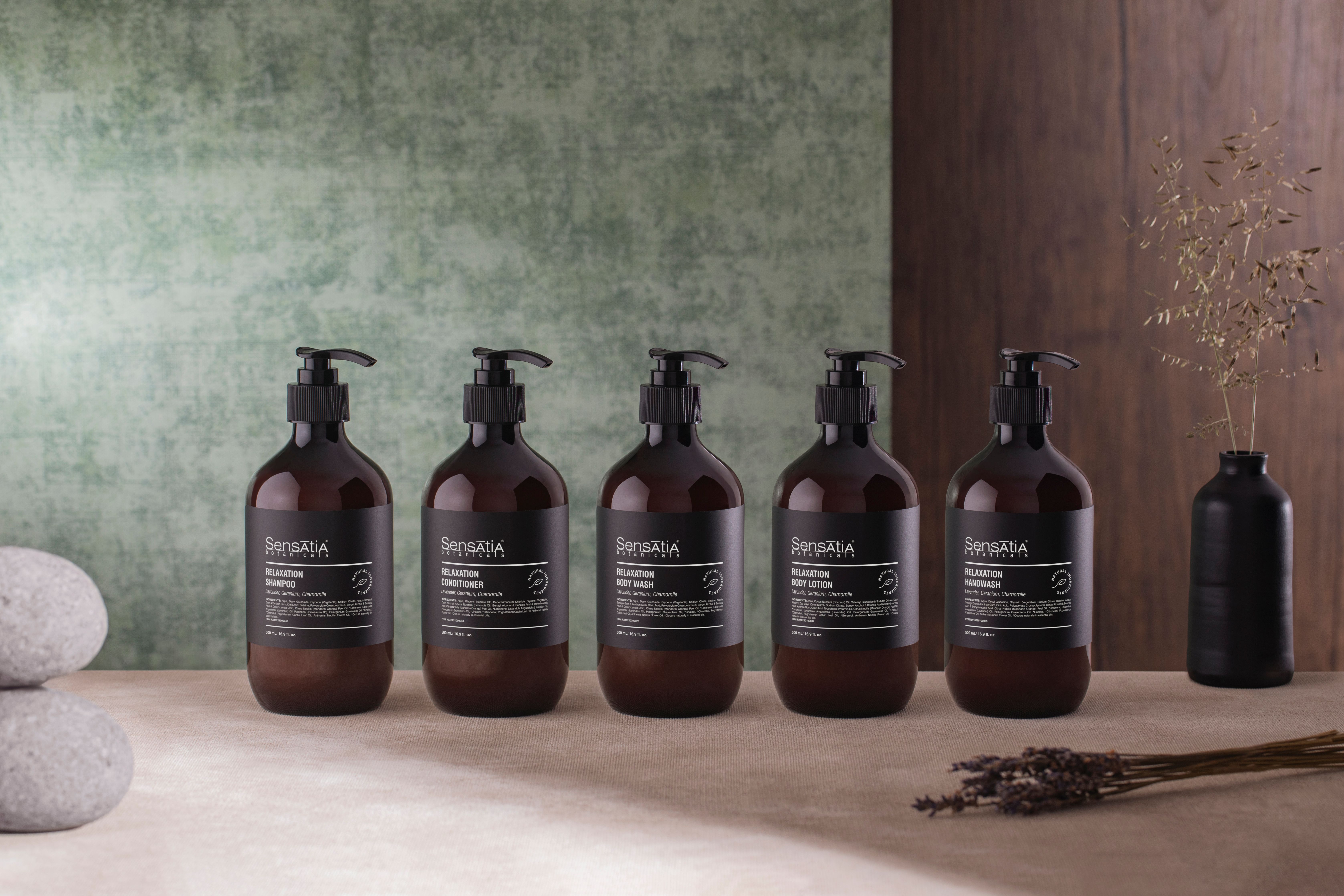 Karangasem, Bali, 12 May 2022 – Sensatia Botanicals, known for over 20 years as the innovative company that introduced natural beauty products, is excited to announce the expansion of its product assortments with the release of its new line of bath amenities. Exclusively offered to hospitality businesses, this new Aromatic Bath Amenities Collection is set to launch on the 12th of May 2022.

All products in this collection feature a biodegradable formula, as they are composed of natural ingredients that break down easily into the environment. These products contain zero toxic chemicals that greatly diminish the potential to pollute groundwater making it safe even when rinsed down the drain and ends up in water systems. This is ideal for hospitality businesses located on the beach or next to rivers.

Packaged in 100% post-consumer recycled plastic, these bath amenities include body wash, body lotion, shampoo, conditioner, hand wash and natural soap. Each product type is available in six different aromas including:

• Lemongrass Tart; an invigorating blend of Indian lemongrass and Indonesian nutmeg gives this range a fresh, warm and energizing nuance. Skin is left subtly scented with the uplifting aroma of tropical citrus and spice.

• Relaxation; the sweet floral scents of Bulgarian lavender and Roman chamomile infuse this zen-inducing line of products. Geranium adds another soothing aroma to help calm the mind and induce utter relaxation.

• Rosemary Mint; a minty fresh and herbaceous blend of Australian eucalyptus and peppermint leaf give this line its vivifying aroma. Skin is left wonderfully fragranced with the sweet scent of peppermint.

• Seaside Citrus; an energizing blend of tropical citrus and Spanish rosemary give this line its delightful aroma. Citrusy and herbaceous, the fresh scent gives an instant pick-me-up to brighten the mood and stimulate the senses.

• Sweet Ambrosia; featuring a heavenly sweet concoction that includes fresh notes of orange and grapefruit. The essential oil blend is also enriched with sweet geranium as the heart note.

• Tropical Wildflower; breathe in the intoxicating aroma of this unique line and you feel as though you've been transported to a beautiful garden awash in exotic flowers. The range features the exquisite aromas of Indonesian jasmine and geranium.

These amenities come in a variety of sizes to suit any property needs. The 50mL products can be used for personal bathroom amenities while the 500mL products are perfect for public areas. A bulk size of 5L is also available for those who would like to decant into their preferred containers.

"Our complete line of bath products offer guests a luxurious cleansing experience any time of day." said Michael Lorenti Jr., Managing Director of Sensatia Botanicals. "The unique and harmonious aromas from each of the product will help boost guest experience and escalate satisfaction rates."

For more information about Sensatia Botanicals, please visit www.sensatia.com.

- End -

About Sensatia Botanicals
Since 2000, Sensatia Botanicals is an Indonesian beauty care brand dedicated to offer naturally effective products. It has been granted GMP (Good Manufacturing Practice) Certification under the ASEAN Cosmetic Directive and Halal Certification by the Ministry of Religious Affairs of the Republic of Indonesia. Sensatia Botanicals is committed to minimize its environmental footprint while continuously empowers local community by hiring residents of Karangasem, an area where the brand was founded, resulting with over 70% of the total employees. Made in Bali, with globally sourced ingredients, all Sensatia Botanicals products are cruelty-free, free of parabens, palm oil, synthetic dyes and artificial fragrances. For more information, please visit www.sensatia.com.