Feb 25, 2021
Sensatia Botanicals Set to Introduce Seastem Marine Skincare Collection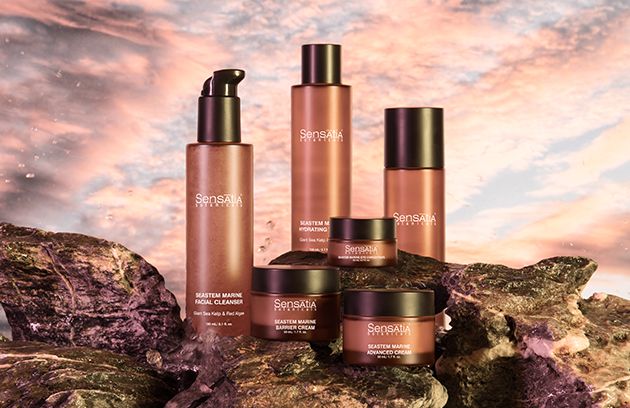 Karangasem, Bali, 25 February 2021 – Sensatia Botanicals, Indonesia's leading natural beauty care brand, is proud to expand its natural skincare line with the debut of Seastem Marine Skincare Collection. Featuring six different products including Facial Cleanser, Facial Toner, Essence, Eye Cream, Day and Night Cream, these new products are set to launch on the 25th of February 2021.

Each product in this collection contains youth-enhancing nutrients that skin needs to stay moisturized and protected. When used in sequence according to their various purposes and application times, the all-natural ingredients provide targeted action for a visible reduction of the signs of aging. The collection includes:

• Seastem Marine Facial Cleanser which gently washes away impurities with a formula that targets signs of aging. Formulated with marine botanicals including giant sea kelp and red algae, this unscented gel helps to purify skin and protect it against stressors. All skin types including tired and delicate skin benefit from mild exfoliation also an abundance of antioxidants and micronutrients.

• Seastem Marine Hydrating Toner with marine nutrients that is intensely hydrating and packed with anti-aging properties. The combination of giant sea kelp, centella asiatica and hyaluronate work together to moisturize thirsty skin and boost elasticity. When used twice a day, the toner can provide long-term protection against dryness and environmental pollutants.

• Seastem Marine Essence that is lightweight, fragrance-free and infused with fortifying marine nutrients to replenish skin and help minimize pores. Giant sea kelp extract not only hydrates and helps even out skin tone, but it also helps protect skin against environmental stressors. The result is radiant, balanced skin that can take on the world.

• Seastem Marine Eye Concentrate provides intense hydration with ingredients that is packed with powerful marine nutrients that help tackle crow's feet and puffiness. Giant sea kelp extract is known for its regenerative properties and firming effect. When combined with red algae and acacia, the gel helps to even skin tone and strengthen skin against environmental pollutants.

• Seastem Marine Barrier Cream is a day moisturizer that is lightweight yet incredibly hydrating which contains marine nutrients that are known for their anti-aging and insulating properties. Giant sea kelp helps to improve elasticity and creates a protective barrier against pollutants, while acacia extract promotes collagen production and has a firming effect.

• Seastem Marine Advanced Cream helps soften and smooth skin during the night with potent anti-aging properties that help alleviate fine lines, wrinkles and sagging skin. The key ingredient is giant sea kelp, a marine alga that helps boost skin elasticity and protect against environmental stressors. The antioxidant-rich formula works overnight to deeply hydrate skin and diminish fine lines.

"We have long prepared for a special collection which specifically targets signs of aging and we are thrilled to share this Seastem Marine Skincare Collection with the world," said Michael Lorenti Jr., Managing Director of Sensatia Botanicals. "Each product contains carefully-selected ingredients to help achieve younger and healthier looking skin that is comfortable, less stressed and displays a natural vibrancy whatever your gender or age."
Retailed start from IDR 250,000, these products are available for purchase starting at the 25th of February 2021 in all Sensatia Botanicals stores as well as at the official website.

For more information about Sensatia Botanicals, please visit www.sensatia.com.

- End -

About Sensatia Botanicals
Since 2000, Sensatia Botanicals is an Indonesian beauty care brand dedicated to offer naturally effective products. It has been granted GMP (Good Manufacturing Practice) Certification under the ASEAN Cosmetic Directive and Halal Certification by the Ministry of Religious Affairs of the Republic of Indonesia. Sensatia Botanicals is committed to minimize its environmental footprint while continuously empowers local community by hiring residents of Karangasem, an area where the brand was founded, resulting with over 90% of the total employees. Made in Bali, with globally sourced ingredients, all Sensatia Botanicals products are cruelty-free, free of parabens, palm oil, synthetic dyes and artificial fragrances. For more information, please visit www.sensatia.com.